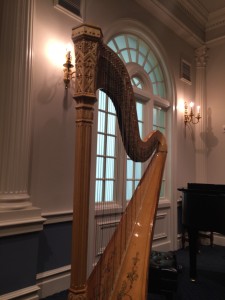 There are songs that melt the heart.  A young soloist sings a love song and young people rush to the stage hoping for a glance.  That's a feeling of emotion.  There is nothing to base a romance or marriage over yet it crosses the minds of many young people.
If a human presentation and voice can do all that, imagine what God can do.  God has already proposed marriage through Jesus Christ.  It is His desire for all to accept His love and spend eternity with Him.  God's love is real and it offers everything to base an eternity over.  All God does is genuine and worthy of trust.  He heals, comforts, straightens paths, mends relationships and even sings.  Yes, God sings to us.  We may not recognize His voice because it is too majestic to comprehend with the human mind.
Zephaniah 3:17
The Lord your God is with you, the Mighty Warrior Who saves. He will take great delight in you;  in His love He will no longer rebuke you, but will rejoice over you with singing.