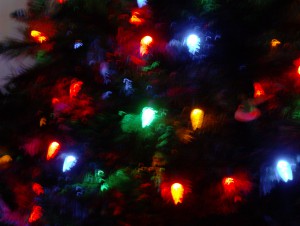 It's that time of year again.  Shopping centers are filled with people looking for that special gift for a family member or friend.  Streets are crowded with people trying to make it on time to an office party or family get together.  Plans are being made for a large feast filled with choicest meats and desserts.  Thoughts are being pondered about whether or not a gift will be liked or if a favorite uncle will get to attend the gathering.
It's that time of year again.  An elderly lady sits alone knitting special shoes hoping one day there will be someone she can give them to.  Her refrigerator is filled with essentials like milk and bread.  Her Bible is opened to Matthew 6 where Christ explains how to pray or to Colossians 1 praying for people she loves.  She rejoices in her heart along with those who have gone before her yet misses them deeply.  Her heart longs for just one phone call or card that doesn't happen yet her heart is filled with love and compassion for people.  Her Christmas gathering is an intimate time alone with Jesus Christ.  After all, it's Jesus' birthday and time alone with Him is the gift He desires the most. 
May the love of Jesus Christ embrace you this upcoming Christmas week.  Always remember, if you tend to our Lord's business, He will truly tend to yours and will meet your needs and desires.
Luke 10:38-42  New Living Translation
As Jesus and the disciples continued on their way to Jerusalem, they came to a certain village where a woman named Martha welcomed Him into her home. Her sister, Mary, sat at the Lord's feet, listening to what He taught. But Martha was distracted by the big dinner she was preparing. She came to Jesus and said, "Lord, doesn't it seem unfair to you that my sister just sits here while I do all the work? Tell her to come and help me."
But the Lord said to her, "My dear Martha, you are worried and upset over all these details! There is only one thing worth being concerned about. Mary has discovered it, and it will not be taken away from her."