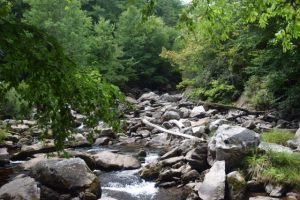 There are times we pray for a certain thing or situation in life and it seems we get hardships instead.  Occasionally God will grant our desires almost immediately and we are encouraged by those answers.  Most of the time our answer to prayer will be the type where we are presented a pathway that leads to the answer we desire.
New pathways require hard work.  We are to face debris in our lives that must be removed in order for us to walk further along the path.  There are fallen logs and rocks that are thrown at us by the devil that need to be rebuked.  Sometimes there will be muddy areas that cause us to slip backwards where we have to repeat the same lesson in life.  Other times there will be thick underbrush causing us to strain ourselves to get through only to be shown afterwards a smoother path a few steps over.
All of these things establish endurance and grows faith.  Our faith is tested by how we keep a grateful attitude through all the disappointments and hardships along the way.  A poor attitude could very well cost us our blessing as we will be focused on anger and resentment and not see what God is unfolding.
The key to growing in grace is to grow in thankfulness and gratitude.  The devil will always challenge the things coming to us that are worth fighting for.  There is every reason to be grateful.
1 Thessalonians 4:1  New Living Translation
Finally, dear brothers and sisters, we urge you in the name of the Lord Jesus to live in a way that pleases God, as we have taught you. You live this way already, and we encourage you to do so even more.