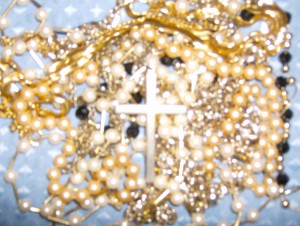 The greatest treasures are in heaven.  They are kept for us free of dust and decay.  As our hearts are focused on Jesus and letting others know of His salvation things get more exciting.  We have not seen these stored treasures yet but it's worth every hurdle in life.  There is a sense of wonder knowing there is a special treasure waiting for us.
During our lifetime here on earth, God provides rewards for the things we accomplish.  He provides answers to prayers in ways too beautiful for words.  The most precious answers come after long waits.  There is a sense of excitement along with frustrations sometimes when the wait is long.  However when we take things into our own hands to speed up the answers, many times the answer is very short lived or not what is expected.
Many times a teenager will long for a date or relationship with a certain person.  The teen will put aside all activities just to be around this person.  Time that should be spent in prayer, homework, fellowship with true friends or chores is spent figuring out ways to be in the presence of this other person.  The thing most people fail to realize is treasure is something that is hunted.  It is worth looking for and getting excited over.  If that teen is always in the path everywhere that special person turns, that teen will certainly be overlooked.  People do not seek to find what is there.   It's not lost. 
The key to being sought after is to remain true to who God created us to be. 
Just like buried treasure does not jump up onto a ship to scare everybody, it's the same with people wanting to be noticed.  God created us all as special masterpieces and each of us is someone to be sought after.  As people seek to be who God created them to be the rare finds just happen and it's all God's doing.
Matthew 13:44-49
The Kingdom of Heaven is like a treasure that a man discovered hidden in a field. In his excitement, he hid it again and sold everything he owned to get enough money to buy the field.
Again, the Kingdom of Heaven is like a merchant on the lookout for choice pearls.  When he discovered a pearl of great value, he sold everything he owned and bought it!