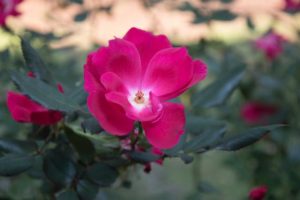 Beyond a smug attitude could be the most precious friend one could have.  Many years of hurts and disappointments went into that attitude but imagine the valuable gem beneath all of those defense techniques.
Genuine friendships take many years to build.  Layer after layer of trust is placed into a person and for each time secrets are kept is one more layer of strength in that friendship.  A true friend will seek to see people as God sees them.  Each person is a masterpiece of its own created by God.
When we choose to spend years praying for someone and encouraging them and see no results God is working on them from the inside out.  It can sometimes take a lifetime for some people to trust beyond certain disappointments but a true friend will continue to see the broken heart. 
As we meet people throughout our lifetime who display attitudes of all types we can know that their hearts are more precious than gold.  We are to recognize that they have a need for prayer more than a retaliation from us.  Many times what a person displays on the outside is not the same as what is in their hearts.
1 Samuel 16:6-7  New Living Translation
When they arrived, Samuel took one look at Eliab and thought, "Surely this is the Lord's anointed!"  But the Lord said to Samuel, "Don't judge by his appearance or height, for I have rejected him. The Lord doesn't see things the way you see them. People judge by outward appearance, but the Lord looks at the heart."