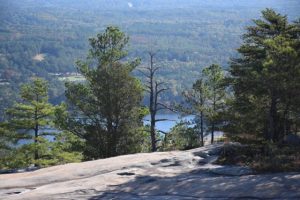 Even in the most difficult circumstances there are choices.  Choices can be broken down into two categories which are heavenly or earthly. 
Earthly choices include contacting people to either complain or set up a solution.  Heavenly solutions include prayer to either discuss the situation with God or to ask for evidence of the victory.
While on earth, Jesus was very specific when He gave an order to prayer.  The first step of prayer is to acknowledge God Who is everything and notice His holiness.  The next step is to take notice that His kingdom will come and His will will be implemented here on earth.  Only after that does He mention us and the things to ask for.  Even if the prayer never gets to the steps that include us, God is God.  He knows all hearts, both ours and the enemy's hearts.  He knows all things before we even ask.
Now we have the big choice.  Do we focus on the circumstances and the complexity of them or do we concentrate on the Victor and watch how He unfolds all things into a blessing?  Despair or excitement in any situation is always a choice that is ours to make.
Matthew 6:9-15  New Living Translation
Pray like this:  Our Father in heaven, may Your name be kept holy.
May Your Kingdom come soon. May Your will be done on earth, as it is in heaven.
Give us today the food we need, and forgive us our sins, as we have forgiven those who sin against us.
And don't let us yield to temptation, but rescue us from the evil one.
If you forgive those who sin against you, your heavenly Father will forgive you.  But if you refuse to forgive others, your Father will not forgive your sins.