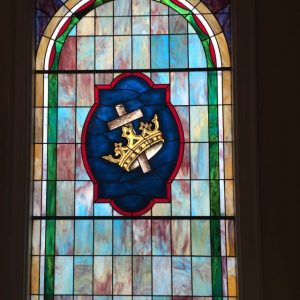 Any athlete can tell you that there is only one winner.  All competitors strive for first place and the much sought after medal.  While there is prestige in a silver or bronze medal it's not first place.  These second and third place winners try harder for the next competition. 
What about the numerous people who competed and got no medal at all?  The look of disappointment can be seen for miles away.  However there is one more way to look at things and that's God's way.
You did not win this competition.  So what!  You competed.  From a heavenly perspective you were the most instrumental person responsible for your friend getting the medal.  The happiness on his face is because of you.  You did not intend to lose the competition but what you won was better.  You gave joy to another person.  You had the opportunity to applaud him which means you gave your best to help another.  You see, it's these type attitudes in life we give away that God makes into eternal treasures in heaven.  Medals cannot be brought to heaven and even if it were possible, the most golden medals will pale compared to God's streets of gold.
When you give your attitude to God over things not won here, you set yourself up for the biggest win ever.  This win never decays.  With this attitude you win every time.
Colossians 3:23-24  New International Version
Whatever you do, work at it with all your heart, as working for the Lord, not for human masters, since you know that you will receive an inheritance from the Lord as a reward. It is the Lord Christ you are serving.