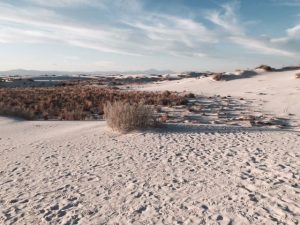 The boss is away for a week on a business trip.  How do we behave differently during that week?  Do we take a slightly longer break or show up late?  If we remain true to our obligations are our words and thoughts toward our boss worthy of God's blessing?  People may see a loyal employee but God sees the heart.
Church is available every single week but we are too busy to attend.  We have an attitude that the church will always be there so we will attend next time.  That thought pattern is not one we should follow because these thoughts usually come back to bite later.  Loving people who attend the church move away or pass away and many weeks go by.  When we finally attend we realize we missed numerous opportunities to spend time with these loving people.
There are lots of things God notices about us that people will not see.  People see us going on a mission trip but God sees that trip as a last minute choice on our part in order to avoid ministering to someone else.  He is well aware of the empty seats in the choir and the beautiful voice He gave us yet we choose to be too busy doing other things.  While people may see us as always being busy about our Lord's work, God sees the heart and our obedience to Him.
God is more pleased with our obedient heart in all things He calls us to do than pleasing people.  He judges us on how well we follow what He tells us to do and not how pleasing we are to others. 
God may call us to remain prayerful for a ministry while he calls others to actually serve.  He may call us to go overseas to minister while He calls others to remain home to pray or donate.  There is no unimportant ministry and yes, God sees our attitudes in all things.
Hebrews 4:12-13 New Living Translation
For the word of God is alive and powerful. It is sharper than the sharpest two-edged sword, cutting between soul and spirit, between joint and marrow. It exposes our innermost thoughts and desires.  Nothing in all creation is hidden from God.  Everything is naked and exposed before His eyes, and He is the one to whom we are accountable.