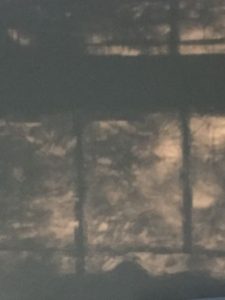 Imagine a cloudless day in the spring.  The sun shines brightly just after a rain leaving the air pure.  The brightness of the sun is almost unbearable on a day like this yet compared to the presence of our Lord it is very dim.  It's almost like looking at a shadow cast by the sun coming into our windows.  The silhouettes of leaves blowing are very detailed in this shadow.
Our lives are are like this silhouette.  Even our brightest most prosperous day is only a shadow compared to the love of Jesus Christ.  There will be a glorious day when we will see Him and He will glorify our body to be able to enjoy the brightness we see.
It is important that we allow our countenance to reflect the love of our Lord for others to see.  Jesus speaks heart to heart so our actions are important when we minister to others.  Unfortunately many places do not allow Bibles or the mention of Jesus Christ but the heart goes on anyway.  Nobody can silence the love of Jesus Christ when the heart speaks.  Jesus made all this possible by dying in our place 2000 years ago.  He is worthy of our praise and thanksgiving.
1 Corinthians 13:11-12 New International Version (NIV)
When I was a child, I talked like a child, I thought like a child, I reasoned like a child. When I became a man, I put the ways of childhood behind me.  For now we see only a reflection as in a mirror; then we shall see face to face. Now I know in part; then I shall know fully, even as I am fully known.