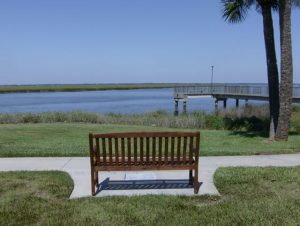 We all have a false front at times.  We meet new people and we present better than our best.  In fact we often times are not even ourselves around new people.
Resumes for jobs are prime examples of adding extra fluff that implies a little more than what we can produce.  We seek to create an illusion of something slightly better in order to impress a potential employer.
As beautiful as this appears to be, it's still a lie.  Stretching the truth, adding fluff or even dressing in Sunday attire as a casual person to impress someone only makes us uncomfortable.  Once an illusion has been created there is the continuous pressure to keep it up.  There will become a day when we will just want to be ourselves.  We find ourselves getting mad at people for no reason.  We get jealous of others who prosper when we are unable to be like them.
There will be a day that we refer to as the breaking point.  We are forced to be alone with God because we will have alienated all our friends who trusted our illusions and not the real us.
Praise God, it's at that time He can get us all sorted out where we can live a life of truth and peace. 
The first step is getting alone with God, just us and Him.  None of us wants to bear all.  God understands that.  The second step is the wrestling match between us and God.  We lash out at Him blaming the friends that deserted us or the ones who prospered instead of us.  This wrestling match can go on for days.  The third step is to choose to either let God have His truth in us or to walk away remaining in the same situation as before.
Letting go means to accept our own selves for who God made us to be.  We realize we are jealous of those prospering and want to be like them but we can't.  What we find out is the person God made us to be is unique to us.  When we present our own truths and strengths God will grow and prosper them.  We can never prosper trying to be something we are not.  It is at that point we can accept and thank God for the people we have been envious of without the anger because we see they give their truthful best and now we can give ours. 
We can present our first impression as our only impression because we represent Christ and it no longer matters what others think.  The truth sets us free.
When we are called to sort things out with God He will see to it we receive peace.  He gives His approval because we have accepted His approval for who we are.  He will bless us.
Just as Jacob wrestled with the things he did to get his own way, we all have this same obstacle to overcome.  Blessings will come as we trust God for who He made us to be.
Hosea 12:4-5  Living Bible
Yes, he wrestled with the Angel and prevailed. He wept and pleaded for a blessing from him. He met God there at Bethel face-to-face. God spoke to him— the Lord, the God of heaven's armies—Jehovah is His name.