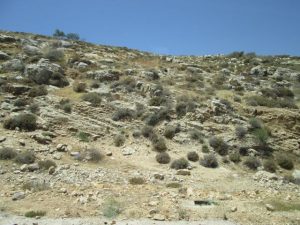 Jesus Christ is the solid rock on which we stand.  Rock is strong and hard.  Rocks and stones protect.  They represent a firm foundation.
Jesus is referred to in the Old Testament as the Rock of Israel.  Many references are made throughout the Bible that compare rock and stone to Jesus Christ.  He provides water from rock as stated in Exodus.  Today we see examples of large mounds of rock seeping with water as a reminder that God provides.  He provided comfort and protection in the crevice of rocks.  Those same crevices remain today for our protection.  Sacrifices were made to God on rocks.  Some of the finest ovens in the old testament were made of stone.
As forms of defense God provided five stones for David to use against Goliath which he needed to use only one.  Weapon tips were made of stone.  Today we occasionally see an old arrowhead in the mountains.  When we pray, God has the ability to melt spiritual hearts of stone.
Our Lord is notorious for taking simplicity to reach the deepest part of a man's heart.  When we look for God we find Him because simple things such as stones can be used to create an awesome wonder in the hearts of those seeking to understand.
Deuteronomy 32:4  New Living Translation
He is the Rock; His deeds are perfect.  Everything He does is just and fair.  He is a faithful God Who does no wrong; how just and upright He is!