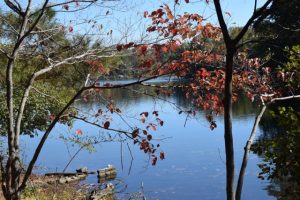 Have you ever been beside a beautiful lake or stream on a clear cool sunny day?  The sky is brilliantly blue and the sun is at it's brightest.  The angle of the sun hits the lake in a certain way where you can see all the way to the bottom.  Even the deepest part of the lake can be seen very clearly.  Then one pebble hits the water making it hard to see the bottom of the lake. 
Rain or winds will churn the depth of the waters bringing up mud and sand from the bottom.  These debris mix with the clear water making it impossible to see things clearly.
Sin is the same way.  You take time to read God's word and learn truths about His ways and how He operates.  God reveals things to your heart that are very clear how to trust in certain situations.  You walk away from a time spent in prayer and experience the peace that passes all understanding.  Suddenly doubt creeps into your mind.  The devil once again muddies your crystal waters of thinking.  Temptations and desires totally take away your concentration on the truth making you focus on lies.
This happens because the devil is on the warpath day and night.  He never sleeps and is full of energy.  You want to get back focused but it's difficult to get back to the right mood.  What do you do?  Seek God with all your heart and lean not to your own understanding.  Then God will make your paths straight.  In all things trust God.  Seek and you will find no matter how muddy the water.  Jesus loves you.  His love is perfect and His love within your heart is stronger than the devil.  Resist the devil and he will flee.  That is a promise.
Psalm 19:9-12  Living Bible
God's laws are pure, eternal, just.  They are more desirable than gold. They are sweeter than honey dripping from a honeycomb.  For they warn us away from harm and give success to those who obey them.  But how can I ever know what sins are lurking in my heart?  Cleanse me from these hidden faults.