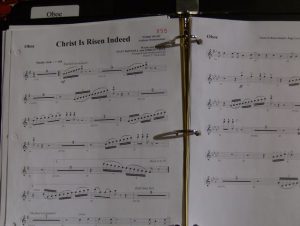 Any musician can tell us that most instrumentalists want what is referred to as first chair.  Many times a player who is out of tune will not even recognize how they play because the competition is more important to them than making a joyful noise.
It's the same way with some vocal soloists.  They can stand in front of a large audience with a solo microphone and present their music with a prideful display yet the tone presented is very unpleasant.
There are many other musicians who spend numerous hours practicing and have a glorious tone but get overlooked every time by ones pushing themselves to the solo spots. 
While large audiences of people listen and applaud these concerts God is paying close attention to the ones who dedicate their music to Him.  It doesn't matter which seat or it doesn't matter if these players ever get a solo or first chair.  God shows His favor to the ones who take the time to notice Him.
God's favor is multiplied millions of times greater than even the largest of audiences.  God's favor is forever.  Concerts and audiences come and go and the memory quickly fades.  Prideful musicians are continually looking for new gigs, concerts and audiences while the humble players are fulfilled daily.
Matthew 20:16  New Living Translation
"So those who are last now will be first then, and those who are first will be last."