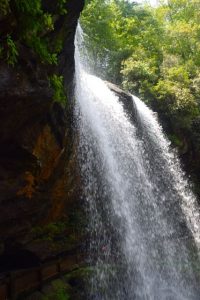 A mother was asked one time how she recognized her baby was crying in a room full of crying babies.  Her response was she knew her baby's cry.  It's the same way Jesus loves us.  The world has billions of people yet He hears our cry over all other cries.
He is omnipresent meaning that His attention toward us is as though we are His only child even when He is comforting another of His children.  What more security do we need than the personal and exclusive attention of our loving Father.
The more we study His word and learn about Him the more we recognize His voice in return.  While some see a tugging of the conscience a threat to wrong doings, we welcome these convictions as a loving squeeze of our hand to pull us in a more safe environment. 
How precious it is that when we have a bad day we can run home to the security of Daddy's rocking chair.  No matter how old we get our Father in heaven will always be our loving Daddy Who will work all things out.  When God tells us everything is ok we can trust all things to work out, no matter how things look. 
John 10:27-29  New Living Translation
My sheep listen to My voice; I know them, and they follow me.   I give them eternal life, and they will never perish. No one can snatch them away from Me, for my Father has given them to Me, and He is more powerful than anyone else.  No one can snatch them from the Father's hand.