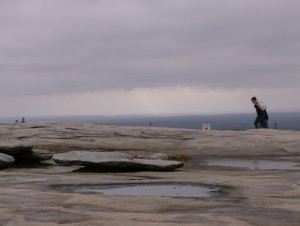 It's normal to wonder what will happen tomorrow or ponder the outcome of current situations.  However the devil will promote worry that things will not work out when God has already worked them out.
All we know is right now.  We cannot participate in tomorrow today.  Making the most of every moment builds the foundation for a better tomorrow.  Until then, it is not what we do not know but it's Who walks with us.  Jesus knows everything.
Romans 8:37-39
No, in all these things we are more than conquerors through Him Who loved us.  For I am convinced that neither death nor life, neither angels nor demons, neither the present nor the future, nor any powers, neither height nor depth, nor anything else in all creation, will be able to separate us from the love of God that is in Christ Jesus our Lord.