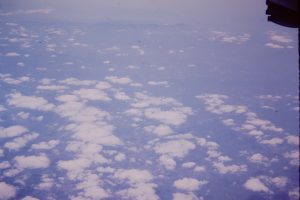 From the land we see clouds.  Some are puffy and peaceful while others are gray and bring storms.  Above the clouds is the beautiful sunshine that is always bright and beautiful.
While on earth, Jesus performed many miracles while enduring lots of hardships and trials.  He got lots of praise and followings from those who believed in Him while others wanted to kill Him because He was a threat to their control.
Jesus also overcame death yet after rising from the dead He sits at the right hand of the Father in heaven.  While earth is full of hardships heaven has only peace.
We experience our own hardships.  Many times our neighbors have a good job while we are not considered for any job at all.  Things come our way that are very painful while our friends do not understand because they have never experienced the same.
Jesus made a very important statement while He was here and it still applies today.  He goes to prepare a place for us.  He endured a lot of things before He left.
In Genesis, Joseph endured jealousy from his brothers yet he was assured by God he had an important mission ahead.  All Joseph's hardships were to enable him to go ahead to prepare the way for his family later.
There are always two ways to look at things in life.  There is our viewpoint of the situations at hand and there is God's heavenly viewpoint that has not manifested itself yet.
We can trust God that He has an important mission for us.  As we walk through these hardships and trials it's possible God is sending us ahead in our own lives to prepare a specific way for others later. 
Psalm 105:17  New Living Translation
Then He sent someone to Egypt ahead of them—Joseph, who was sold as a slave.