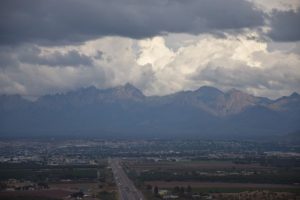 Nobody has ever seen heaven in its fullness except the ones already there.  From brief descriptions it is everything perfect.  The colors are brilliant and in shades beyond anything here.  The weather is always nice and people are happy.  There are many reunions as more people arrive and the time together never ends.  The things in our lives that cause quarrels are not there making it where all people get along.  There is no mold, rust or decay because everything is perfect.
Jesus gave His life in order that we can be a part of His eternity and inherit the blessings He has tailor made for us.  Eternity is available for all who accept Christ as Savior and Lord.
It makes no sense to be obsessed with the things here that we cannot take with us.  Things wear out and get stolen yet there are people who work hard to have fortune and fame here.
For those of us who have loved ones already in heaven, a beautiful reunion is ahead and it will last forever.  Jesus is Lord and He has made this beautiful eternity possible for all who believe.
Matthew 16:26  New Living Translation
And what do you benefit if you gain the whole world but lose your own soul?  Is anything worth more than your soul?