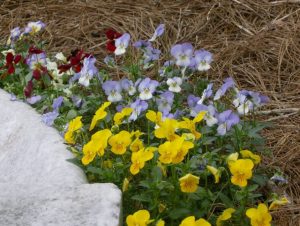 As children or some of us as adults enjoy doing artwork.  It's exciting to use different ways to display art such as oil paints, water colors or even fabric.  Different colors are selected to display our creations exactly like we plan.  Some colors such as blue for skies or green for grass are used a lot and for a long time.  Other colors such as red or brown are used briefly yet for a precise and specific display.  However without each color and representation on the canvas or needlework it is incomplete.  All colors and representations are vital in making the complete and right display.
God also has a tapestry in us.  He has a divine purpose in all of us.  While some people speak in front of large audiences and win many to Christ others spend time alone with God in prayer hardly being noticed.  There are ones being recognized for living more than a hundred years being glory to God.  Others live only but a brief moment bringing families and friends together in unity where people seek a better understanding and closer walk with God. 
All people serve an important purpose in God's beautiful tapestry.  Without each and every one His beautiful tapestry would be incomplete.  The most important thing to notice about God's tapestry is we were chosen to be in it.  No matter how long or brief or how brilliant or peaceful the color, we are in it.   Each of us are according to His plan and He will bring us into His beautiful eternity.  His workmanship is forever.
Proverbs 19:21  New Living Translation
You can make many plans, but the Lord's purpose will prevail.