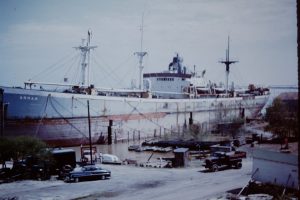 When we consider large ships it's important to consider the compass.  As a ship leaves port to cross an ocean or great sea the view becomes totally water in all directions until it nears the destination.  If the compass gets destroyed the captain must rely on his own instinct.  These instincts may work for a while but it doesn't take long for him to lose his sense of direction, especially if the sun is behind stormy clouds.
God has given to us a spiritual compass which is our conscience in life.  Our minds are continually tugging at us letting us know what to pursue and what to avoid.  We are taught things in the Bible to look for in life and we are prepared to follow specific instructions.  However the focus on the creation in many cases outweighs the focus on the Creator.  We can maneuver through life easily enough with our focus on full calendars and material things but gradually our sense of direction becomes more dull as time progresses.  Unfortunately the more we focus on the luxuries in life the more others are taking their positions to control things and ultimately control us.  There are others who gradually get overtaken by their own desires to the point God steps away.  When the spiritual compass is gradually removed people no longer have remorse for even the worst of the worst things done to others.  The people in charge also have no regard for what is right and automatically excuse what is wrong.
Have we been focused so long on luxuries that we have stopped noticing the absence of God's presence in these situations?  Are we guilty of excusing wrong doings because it will require a commitment from us to even go vote?  Many times if things do not affect us immediately or it doesn't interfere with our routine, we remove ourselves and hibernate in our own comfort zones.  It's time to consider it an emergency if we are too comfortable especially if we do not take time to survey our surroundings or the direction authorities are taking the world.
The time has come to get busy about our Lord's work.  He will provide His divine instructions and He can use us to create ways He can bless.  There are many people who have reached the point where what is wrong seems right to them.  If this is the case for some of us, it's time to run to the alter and seek God's guidance in order to have our spiritual compass restored.  It's not too late to seek God's will.
Romans 1:28-31  Living Bible
So it was that when they gave God up and would not even acknowledge Him, God gave them up to doing everything their evil minds could think of.  Their lives became full of every kind of wickedness and sin, of greed and hate, envy, murder, fighting, lying, bitterness, and gossip. They were backbiters, haters of God, insolent, proud, braggarts, always thinking of new ways of sinning and continually being disobedient to their parents. They tried to misunderstand, broke their promises, and were heartless—without pity.