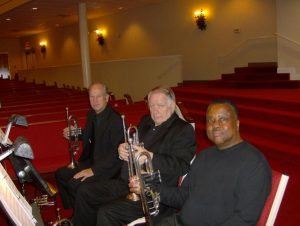 A band consists of many instruments each playing its own part.  The beauty created when all instruments come together to play a song is pleasant to a listening audience.  The music heard is the song as a whole and never a lone instrument.
Some may feel that playing second, third or fourth is humiliating when it's totally the opposite.  If it were not for the supporting parts the first part would be noticed as an unpleasant sound.  Looking at things realistically, all instruments are first on the part it plays.  While one may play a higher tone and more notes there would be no band without all instruments.
There is no disgrace playing second trumpet because without the seconds, thirds and fourths there would be no first.  In God's eyes all instruments are first.  His Omnipresence makes it as though each instrument, each tone and each note is the only one He hears.  When offered to God in love it is received as a pleasant aroma in His throne room.
Ephesians 4:16  New Living Translation
He makes the whole body fit together perfectly.  As each part does its own special work, it helps the other parts grow, so that the whole body is healthy and growing and full of love.