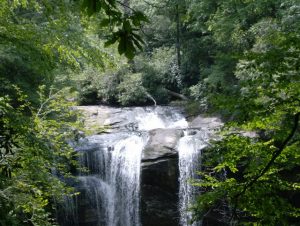 Placing trust in God means to trust in all things.  God uses unpleasant circumstances to test our attitudes during adversity.  He uses pleasant circumstances to see if any focus remains on Him. 
There is no doubt we are living in a fallen world and during these times of natural disasters and lawlessness it's an opportunity to be an encouragement to others.
If we take a moment to step back and look at a broader picture we will discover that life consists of far more than getting our way.
College students, many times, will have no choice of a dorm mate.  This other student may be the biggest asset or the worst enemy.  Elected officials and presidents may not be our choice and view points may differ.  Rules may abruptly change depending on the goals of a new boss which could very well make things uncomfortable.  One thing to remember is this world is constantly changing with the only constant being God Himself.
When our trust is placed in Him it helps when things change all around.  God is our anchor and He walks with us through all things.  He always allows or stops things that come our way and it's always for the purpose of growing us into His likeness. 
How do we handle what seems unfair?  Are our attitudes pleasing to God?  Many times the duration of challenges are shorter with the right kind of attitude.  Lord, what are You up to?  How would you have me conduct my attitude during these times I don't get my way? 
God has a divine purpose for all things, including who is in authority over us.  A relaxed authority leaves room for loose habits to grow.  A strict authority is an opportunity to make a self inventory of things we need to take more seriously.  Seasons come and go but for right now things are what they are.  How we please God during the times we do not get our way is what really matters.  God rewards for an eternity.
Romans 13:1-5  New Living Translation
Everyone must submit to governing authorities. For all authority comes from God, and those in positions of authority have been placed there by God.  So anyone who rebels against authority is rebelling against what God has instituted, and they will be punished.  For the authorities do not strike fear in people who are doing right, but in those who are doing wrong. Would you like to live without fear of the authorities? Do what is right, and they will honor you.  The authorities are God's servants, sent for your good.  But if you are doing wrong, of course you should be afraid, for they have the power to punish you. They are God's servants, sent for the very purpose of punishing those who do what is wrong.  So you must submit to them, not only to avoid punishment, but also to keep a clear conscience.