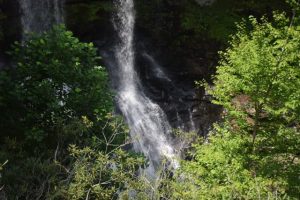 The Dead Sea is a prime example of some of the most stubborn circumstances we face today.   This sea takes and takes but never gives.  The sun evaporates what little fresh water there is while the rest of the water sits stagnate from lack of movement.  A hose pumping fresh water into the dead sea or a fierce rainstorm will have the same results, none at all. 
It's the same with efforts made toward certain personalities.  Try finding that perfect birthday gift for the person who has everything.  Try complimenting and making your best efforts to a narcissist personality.  The results are the same.  They may say thank you at best then all your efforts are dumped into their unappreciative black hole while they hunger for more more more.  Believe it or not, these people who have it all are the emptiest of them all.  The things that matter most are not the things received but given away.
Jesus can fulfill any type of emptiness if we let Him.  Unfortunately the greatest healing for some  people and situations is to first experience the absence of the things they crave most.  The less some people have, the more appreciative and aware they are of the things they receive.  The ones having less material things have more room for the love that really matters.  When that love is passed on more flows in and the precious cycle goes on.  The love of Jesus Christ has no beginning or end and it's that type of eternal love that is worth creating a path.
Jesus can do all things, including helping the filthy rich and narcissist personalities make room for the best.  After all, Jesus said we can pray for anything and believe and it will happen.  There is a day coming when even the Dead Sea will give way to the flowing waters from the Temple.
Ezekiel 47:8-12  New Living Translation
Then He said to me, "This river flows east through the desert into the valley of the Dead Sea. The waters of this stream will make the salty waters of the Dead Sea fresh and pure.  There will be swarms of living things wherever the water of this river flows.  Fish will abound in the Dead Sea, for its waters will become fresh. Life will flourish wherever this water flows.  Fishermen will stand along the shores of the Dead Sea.  All the way from En-gedi to En-eglaim, the shores will be covered with nets drying in the sun.  Fish of every kind will fill the Dead Sea, just as they fill the Mediterranean.  But the marshes and swamps will not be purified; they will still be salty.  Fruit trees of all kinds will grow along both sides of the river.  The leaves of these trees will never turn brown and fall, and there will always be fruit on their branches.  There will be a new crop every month, for they are watered by the river flowing from the Temple.  The fruit will be for food and the leaves for healing."