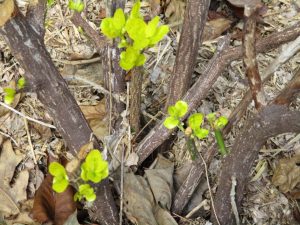 We have hopes and dreams of the outcome of our efforts and suddenly it's gone.  A good student learns at the last minute he will not graduate with his class and there is no time to make up lessons.  A musician has a choice solo in a major concert only to be replaced just before the concert with a guest.  An athlete has a chance of scoring the final points for a championship game and fractures his knee.
Everything we hope for has come to a dead standstill.  We see everything as lost just like pruning a bush down to just a few lifeless twigs.  All life is gone.
As we move through life over the next few weeks and months we find that the hurt slowly goes away.  The disappointment is still there but the devastation is tolerable.  It isn't long after that we will see brand new hopes.  These are the kind of hopes that never occurred to us.
Just like we can look at that pruned bush with no life at all, we start to see new growth.  The new growth is free of all the overgrowth and debris.  It's all brand new and it's beautiful.
Psalm 43:5  New Living Translation
Why am I discouraged?  Why is my heart so sad?  I will put my hope in God!   I will praise Him again—my Savior and my God!