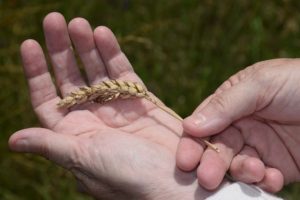 We plant a seed and water it only to see nothing.  We can pull up a stool and sit for hours and see nothing at all.  The Bible is specific when It refers the type seeds planted being what sprouts.  Only in delayed photography can we really see a flower grow.  Otherwise the growth is too slow to watch and it gets discouraging.  There aren't too many people who would use their time to await such a slow growth.
It's the same with answered prayer.  We pray very specifically about something then we sit and wait.  The hardship we pray about is often the focus while we wait instead of God.  Unfortunately we get focused on the answer we expect while God is focused on a totally different answer that is much more brilliant than our biggest imagination.
After planting and watering a seed we walk away and get busy with more productive things taking moments here and there to add water.  Waiting on a prayer to be answered is best handled in the same way.  We are to be productive while we wait.  It's during these waiting periods God is grooming us for His answer and examining our faith.  The long waiting periods and what we do with that time is being watched very closely by God.
2 Thessalonians 1:4-5  New Living Translation
We proudly tell God's other churches about your endurance and faithfulness in all the persecutions and hardships you are suffering.  And God will use this persecution to show His justice and to make you worthy of his Kingdom, for which you are suffering.