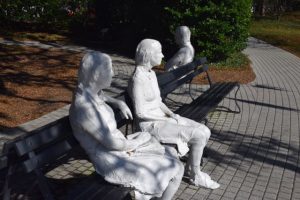 Most of us know the story of the good Samaritan who helped an injured man.  Two other people passed by and didn't lend a helping hand.  The Bible is very clear that God wants us to care for others.  In doing so we are sending ahead treasures for heaven that we will enjoy for an eternity.
What were those other two people thinking who passed by the man who needed help and didn't offer any?  They may have made their meeting on time or looked good to a certain group to have a clean garment.  They may have made it to the dinner table on time and enjoyed a meal.  They may have had speaking engagements to offer words of comfort to others. Unfortunately that was the only reward they received.  Those rewards were very short lived.
When we see a pan handler today what do we do?  In most cases it is not advisable to donate money but we can offer a prayer.  If we have an extra sandwich do we think to offer one to him?
Occasionally there will be a person alone on a park bench obviously upset.  Do we take time to ask them how we can pray?  It takes only a moment to please God when we spread kindness to another person.
As people get more preoccupied in the latest technology it's easy to overlook the obvious but we need to remember, God never overlooks us.
Hebrews 13:16   Living Bible
Don't forget to do good and to share what you have with those in need, for such sacrifices are very pleasing to Him.