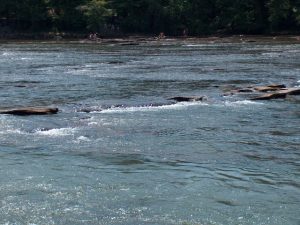 There is a person sitting beside us at work, school or a team sport.  They come as a friend when really their motive is to push us aside.  The discomfort is unbearable, not at what they say or do but their silence.  We wonder what they are planning to stir up next.
Many live in places where personal lives are dictated by those in control.  We live in uncertainty of how we will be treated at a medical facility, if insurance will deny us or if treatment is refused altogether.
In the market place are inferior goods being represented as quality.  Sales tags are waving yet those prices are more expensive than regular price somewhere else.
In most situations these days we are surrounded by enemies who have their own motives for self gain.  Honest people get overlooked and evil gets rewarded.  However we are trusting One Who is higher than all people put together. 
We place our trust in God Who supplies heavenly answers.  He surrounds us in His love and protection every day.  Our discouragements are God's priorities.  When we do not see His answers He is preparing us to be mature enough to recognize His answer when it happens.  When we do not hear His voice He is settling us to where we recognize the various ways in which He speaks.  He is God.  He is our great protector and redeemer in all things.
Psalm 3:1-4  New International Version
Lord, how many are my foes!  How many rise up against me!  Many are saying of me, "God will not deliver him."  But You, Lord, are a shield around me, my glory, the One who lifts my head high.  I call out to the Lord, and He answers me from His holy mountain.