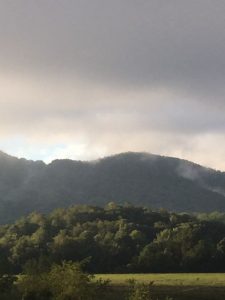 Abiding in God is the answer to all things.  While we walk along the path of life we cross many things we do not expect nor understand, God understands all things in great detail.
We come across obstacles and see no way across.  At times we are blinded by sudden disasters and see no way through.  We look to God to show us a campfire in the darkness or a drop of rain during a dry spell.  During certain hard times we see no light or feel no moisture but God never leaves us.
While we sometimes look for a campfire we fail to see His hand at work right beside us.  He is slowly adding logs to build a bonfire which exceeds anything we expect.  Often times we look for a drop of rain during long dry spells but overlook His ever presence with us.  He is building a shower of rain for us.
It's easy to desire to look for end results when we need a ray of hope.  However looking to God each moment of each day includes us in His creation of miracles.  A miracle in itself is a blessed event but to walk with God is to witness continually the creation at work.
Romans 8:28-29  New Living Translation
And we know that God causes everything to work together for the good of those who love God and are called according to his purpose for them.  For God knew His people in advance, and He chose them to become like His Son, so that His Son would be the firstborn among many brothers and sisters.