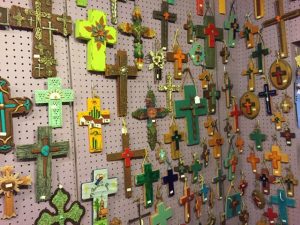 An athlete runs the race and wins.  He places the trophy on the shelf and then celebrates.  Once the celebration is over and the newness of the trophy wears off, what next?  A student studies hard and makes good grades.  She even goes on to graduate with honors.  There are parties and recognition but that quickly fades away.  What next?
In life there are numerous goals to be accomplished.  Enough should never be enough.  Once a goal is accomplished it's on to the next greatest thing.
It's the same spiritually.  Studying the Bible and fellowshipping with others in order to learn more about Jesus should be like kindling a fire in our hearts.  It's exciting when Jesus reveals to us something we do not yet know.  We enjoy that excitement but it leaves us wanting to learn something else.  When Jesus reveals Himself to us it creates an even stronger bond.  Enough is never enough until we reach our final reward.  Jesus created it all.  Jesus is all.  Jesus is enough.
1 Corinthians 8:6  The Living Bible
But we know that there is only one God, the Father, Who created all things and made us to be His own; and one Lord Jesus Christ, Who made everything and gives us life.