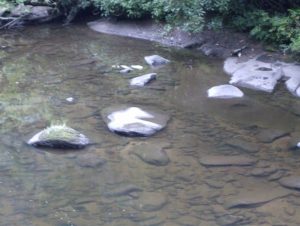 Life has no guarantees that things will be easy.  In fact, more often than not we are dodging stumbling blocks or jumping hurdles.  Occasionally we will be faced with times where there is nowhere to go.  We can't move ahead, side to side or even back.  We are just stuck with a big problem.  Financial difficulties, friends moving away, older people going home to heaven or loss of a job can leave us in a bind where we see no open door.  We are left with an emotional situation and no clear way to go.
It's during these situations we wait.  We trust God.  We take one moment at a time.  We take an inventory of ourself and our relationship with God. 
It's not about the things we cannot feel, touch or see but all about God and the fact that nothing is too hard for Him.  It is an opportunity for us to allow God to demonstrate His love toward us.  As we allow Him to work things out, He will reveal a next step, then then a next step and the next one.  We will one day look back at this situation and how God delivered us so that we can better trust for the next situation.
2 Corinthians 5:7  Living Bible
We know these things are true by believing, not by seeing.