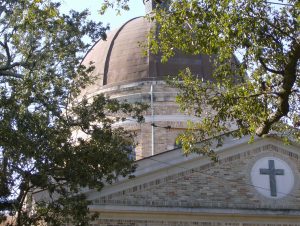 Jesus shared His final meal on earth with His disciples before He was nailed to the cross.  During the meal He shared a loaf of bread which represented His body that was to be sacrificed and a cup of wine to represent the blood He was to shed.  He instructed us all to break bread and share wine in remembrance of Him.
Even though it's not possible for us to use the exact cup that was presented at the last supper we still share in the same way that He demonstrated years ago.  Jesus also warned us that the days ahead will not be easy.  He told Peter that the devil asked permission to sift him like wheat yet Jesus prayed for him. 
As days grow shorter the devil is even more on the war path against us yet we are assured that Jesus is with us.  Not only did he break bread and share wine with the disciples, He encourages us today to share with each other as often as we will.
The Christmas celebrations are rapidly approaching and as we prepare to rejoice advertisers are already promoting their product.  The devil is always out to steal, kill and destroy.  He can take something as simple as a coffee cup and turn it into a focal point bringing the attention away from the one true cup.  Once the hoopla is over, unfortunately Christmas will also be over for this year.  However something good can come out of the hoopla.
While standing in line waiting to get coffee or even to complain remember that it's possible the person in line behind us may not know Jesus as Lord.  What a great opportunity to display a Christlike attitude to compensate for what may or may not be missing from a paper cup.  The only Bible or Jesus some may ever see is what we demonstrate in our attitudes.
1 Corinthians 11:23-26  New Living Translation
For I pass on to you what I received from the Lord Himself. On the night when He was betrayed, the Lord Jesus took some bread and gave thanks to God for it.  Then He broke it in pieces and said, "This is My body, which is given for you.  Do this to remember Me.  In the same way, He took the cup of wine after supper, saying, "This cup is the new covenant between God and his people—an agreement confirmed with My blood.  Do this to remember me as often as you drink it."  For every time you eat this bread and drink this cup, you are announcing the Lord's death until He comes again.