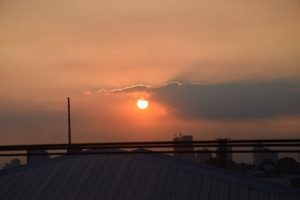 Troubled waters in life come in many forms.  Sometimes these hardships can be unexpected and devastating.  Other times it can be one continuous challenge were detours in life must be made just to get around.  There are also times when it's one obstacle after another like ocean waves.  We often refer to these times as dark times or valleys.
We look around us while some people seem to never have a care in the world.  They are always happy and everything falls into place for them.  It's hard not to envy these people sometime but how do they recognize a blessing?  Unfortunately these people rarely seek God when the world goes their way.  It's good to pray for them.
As for us, these valleys are opportunities seek God's face in all things.  God can raise us up from the lowest point.  He can reach us from the furtherest point.  He can bring us into perspective from the highest point.  Valleys come our way for various reasons but our answer is always God on High.  Miracles can be performed when there are situations for a miracle.
Psalm 139:11-12   Living Bible
If I try to hide in the darkness, the night becomes light around me.  For even darkness cannot hide from God; to You the night shines as bright as day.  Darkness and light are both alike to You.