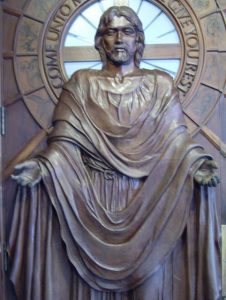 There are ones in our lives we consider closer than a brother then learn very harshly later on that their whole friendship was a pack of lies.  We counted on them and they were not there yet they counted on us and we were there each time.
We do business with a well trusted organization and while others are praising their products we are disappointed with inferior products.
Jobs are where we give our best efforts yet the ones always on break or gold bricking get the raises.  We are praised by the boss for the work we do while we watch others get the actual rewards.  The reality is our work keeps others looking good.  We are absent just one day and we become the worst person on earth according to these coworkers.
When does all of this end?  Why is there never any exposure for what is wrong and recognition for what is right?  Who will ever vindicate us?
His Name is Jesus.  We have not been vindicated yet but He will see to it when His timing is right.  Jesus is the friend Who is truth.  As we cling to our relationship with Him and trust in Him daily all things will become second place and not nearly as disappointing when we are let down.  He provides the right people at the right time to offer comfort and encouragement.  He offers ways of escape when we have the sinking feeling of being stuck with an inferior product.  He has special ways of either rotating management or moving us to another department. 
There are no ends to God's plans.  As we walk through a valley of discouragement our exciting days lie ahead.  As we wait for our Lord to act we draw strength from our Savior each step of the way.  He never lets us down and He opens doors that are totally unexpected at the most unexpected time.  Our day is coming because Jesus is Lord.
Colossians 3:23-25  New Living Translation
Work willingly at whatever you do, as though you were working for the Lord rather than for people.  Remember that the Lord will give you an inheritance as your reward, and that the Master you are serving is Christ.  But if you do what is wrong, you will be paid back for the wrong you have done. For God has no favorites.