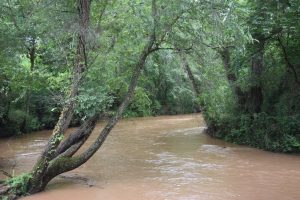 We wear a spiritual wardrobe that includes a smile and an attitude of love.  This is especially true when we enter a house of worship.  Our words are kind and our spirit is one of helpfulness toward one another.  We display our spiritual wardrobe with much effort toward one another but God sees what's in our pockets.
Lets examine our pockets for a moment.  Do we really want to see what's in them?  Our worst pocket is the one God sees as the best effort He can use for His glory.  When we open our spiritual coat lined with pockets on each side they look neat enough but when we reach into them we find shortcomings and disappointments.
In one pocket we find anger which is a serious no no in God's eye.  We arrive at church and a visitor is sitting where we always sit.  Anger rises up within us to the point we feel it watering in our eyes.  What if that visitor doesn't know Christ and the very sermon planned for the day is the one that prompts them to make a decision for salvation.
Speaking of seats, we are the ones to arrive early and save a whole row of seats for our circle of friends.  This circle of friends are always late yet we tell others not to sit in those seats.  A guest becomes frustrated and leaves without us knowing they left.  We are happy because we got our way but Christ noticed the broken heart of the one who left.  This pocket of possessiveness does not please God.  We are so wrapped up in getting our own way that opportunities to minister walk out the door and we don't even notice.
Another pocket emptied out shows the ugliness of judgement of others.  Yes, we all judge anything that isn't exactly like us or our way of doing things.  A beggar stands on the corner wanting to work for food as we drive by in our church attire.  While it's not the best idea in most cases to give money it's always best to offer a prayer on behalf of that person instead of thinking we are glad we are not like that.  God could have very easily made us them and them us.
There are pockets of lust, substance abuse or covertness.  The number of pockets could be hundreds but the important thing is to empty them one by one before God and let him change what is in our pockets to the mind of Christ.
Emptying pockets is embarrassing but very necessary if we are to become more like Christ.  For each pocket we empty He will make change to fill those same pockets with something beautiful.
Ephesians 4:21-24  New Living Translation
Since you have heard about Jesus and have learned the truth that comes from Him, throw off your old sinful nature and your former way of life, which is corrupted by lust and deception.  Instead, let the Spirit renew your thoughts and attitudes.  Put on your new nature, created to be like God—truly righteous and holy.