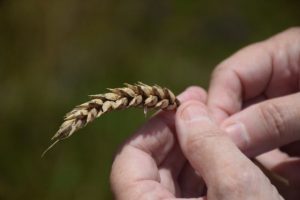 A wheat field is very beautiful when in full bloom and ripe for harvest but it is only the beginning for usefulness.  A single stalk of wheat seeds in the hand is very detailed.  It's amazing to look at with all the fine, delicate workmanship of our Lord.  However beauty to the eye will be all that seed will ever be unless it is prepared.
Preparing wheat for usefulness takes lots of whacking down, beating, sifting, grinding, boiling or baking.  Only then will wheat serve the purpose God intended.
It's the same for us.  When dreams are shattered, promises by people are broken and we feel forgotten it's time to remember that God has His purpose.  Sometimes God can use us the most when it seems there is nothing left. 
John 15:2-4  Living Bible
He lops off every branch that doesn't produce.  And He prunes those branches that bear fruit for even larger crops.  He has already tended you by pruning you back for greater strength and usefulness by means of the commands I gave you.  Take care to live in Me, and let Me live in you.  For a branch can't produce fruit when severed from the vine.  Nor can you be fruitful apart from me.