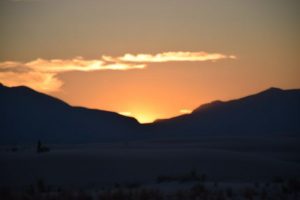 Many are the afflictions of the righteous but God delivers us out of them all.  Psalm 34:19 is a famous saying in the Bible we cling to when troubles come our way.  We hold on to the truth that God will deliver no matter how big the trouble or how many come our way all at once.  We are guaranteed two things.  Trouble will come and God will deliver us each time.  The important thing is that we trust God to be true to His word.
The Bible gives us many warnings of the different types of things that can come our way.  God knows every trick of the devil.  God loves us and He will see to it we are never alone no matter how deep the hurt, turmoil, anxiety or despair.  He will deliver us in ways that are above and beyond our thoughts.  We can be assured that as we walk through these times of turmoil that leave us speechless He is with us.  During these times we do not have words to say exactly how we feel, Christ intercedes for us at the throne with words that are pleasing to God.
Whether our prayers are spoken, understood or unspeakable by us God has already heard and He understands.  His help is on the way.
Psalm 46:10   New International Version
He says, "Be still, and know that I am God; I will be exalted among the nations, I will be exalted in the earth."