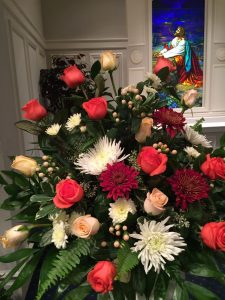 There was an old western show that is rarely shown today.  The story was about a wolverine.  That wolverine would come during the night and rob a family of their meat and other things they depended upon to live.
The oldest male in the family gathered with other men and together the searched for that wolverine.  They kept seeing evidence of its presence yet they never were able to find it.  A statement was made by this oldest male after he returned home empty handed.  He said that the whole time he was hunting that wolverine it was like an eerie feeling inside him saying the wolverine was actually hunting him.
It wasn't until he returned home that the wolverine showed up that night to steal meat.  At that time the family was able to deal with that animal.
This story can be applied to us.  A person wrongs us or hurts us deeply.  In our hearts and mind we plan all types of actions that could really harm this person in return.  Unfortunately during our planning phases, it's the enemy who has the upper hand on us because he is imbedded deeply into our minds.  These plans take precious time that could be spent doing more productive things.
When we turn these hurts over to God in prayer and seek God's will for ways to show kindness to them, He will righteously display His anger toward them.  His righteousness deals with their hearts and pay back may not be seen for a long time.  However, it's God's right to deal with these people in the way He sees fit.  It is our duty to trust and obey God when it concerns these people.
Romans 12:19-21  New Living Translation
Dear friends, never take revenge. Leave that to the righteous anger of God. For the Scriptures say, "I will take revenge; I will pay them back," says the Lord. Instead, If your enemies are hungry, feed them. If they are thirsty, give them something to drink. In doing this, you will heap    burning coals of shame on their heads." Don't let evil conquer you, but conquer evil by doing good.