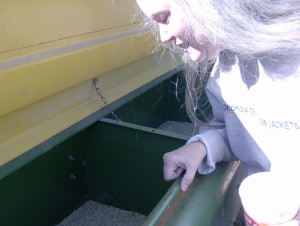 The Bible beautifully explains things using examples we can all understand of how things work spiritually.  Jesus illustrates the example of farmers and crops.  A seed will not produce unless it first dies and then planted.
In life when we desire things to work out we turn those desires over to God and allow Him to work.  Our desires are like seeds.  We hold those desires in our hearts and ponder how things can all work out.  However if we continue to ponder and dream about what we hold in our hearts, things will be no better than what they are.  The darkest time is when things are first given over to God like planting a seed.  The seed has not started to grow yet.  It's dark.  It's underground.  It is totally out of our control but it is indeed in God's control.  Later we see a small sprout, a stem, a bud then whole crops.  Unless the seed is planted it will not grow.  Unless we allow God complete control we will not see our dreams unfold.  God gives much more than we can expect.  He is worthy of our trust.
Psalm 126:5-6
Those who plant in tears will harvest with shouts of joy.
They weep as they go to plant their seed,  but they sing as they return with the harvest.