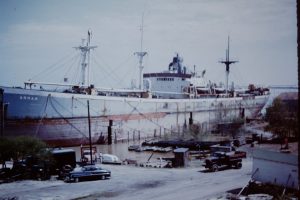 Faith is the substance of things hoped for and the evidence of things not seen.  This is what the love of Jesus Christ is all about.  He is the hope and salvation of all we go through.  He saves us and we have an eternity with Him. 
What about the things we walk through while we are still here?  Things often do not turn out the way we hoped they would and we are faced with situations we can handle up to a certain point.  Do we focus on the condition or do we use the courage God gave us to focus on Jesus Who will deliver His solution?  One of the hardest things to do is to approach God for help once we have gotten our own selves into a consequence we cannot handle.  We know what we should have done but chose to do the opposite.  Now we are walking through unbearable consequences and we know why.
There is no greater love than Jesus Christ and our occasional choice to go against God's will does not diminish His love toward us.  His love for us remains the same and His door remains open for us to approach Him no matter how the consequences happened.
When we exercise the courage God gave us we are free to trust Him in all things.  He is quick to forgive and He never takes revenge.  In the book of Acts chapter 27 people were guided by the circumstances and what they could see and it brought them to a situation where the ship would sink.  God's solution, always being perfect, presented an example we can use in our own consequences.  Paul said the ship would be lost but not the people. 
We can trust God that the impact of our consequences will be lost but not us.  We can use these consequences to our advantage when we remember the outcomes and make a wiser choice next time.  When we focus on Jesus and the courage He gives us it helps to separate us from making hasty decisions based on the condition.
Acts 27:22  New Living Translation
But take courage!  None of you will lose your lives, even though the ship will go down.