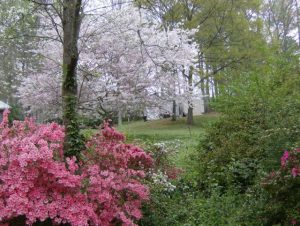 Each day we enjoy daylight and evening that we did not create.  The breaths we take are a gift from God.  We did not knit ourselves together in our mother's womb yet we live day to day.  Communication with family and friends in ways we understand is graciously supplied to us by God.  During hardships, it is the love of God that sees us through.
While we turn our eyes to God for answers from God during trials, do we remember to acknowledge Him when things are going smoothly for us?  We enjoy the blessings around us but are we too busy with the blessings to notice the One Who sent them?  Unfortunately the easiest times to overlook God are the times He has blessed us the most.
Deuteronomy 6:11-12 New Living Translation (NLT)
The houses will be richly stocked with goods you did not produce. You will draw water from cisterns you did not dig, and you will eat from vineyards and olive trees you did not plant. When you have eaten your fill in this land, be careful not to forget the Lord, Who rescued you from slavery in the land of Egypt.