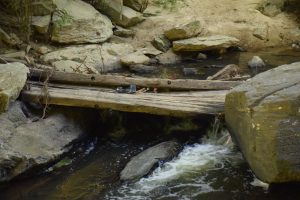 We have all seen drain pipes that become clogged.  These clogs do not happen over night but over a period of time one thing leads to another.  After a while it's hard to get any water to drain at all.  It started with one grease spot that attached to the side of the pipe and each time water drained more debris collected.  Suddenly the drain was clear and water ran quickly and smoothly but it wasn't until clorox was used to clear the way.
The same thing happens in our lives.  We want to demonstrate love toward one another but all people see coming from us is a truck load of issues.  Someone wronged us in a serious way and we never quite got over it.  This created the initial clog.  After that we were rejected by someone we thought loved us which added additional coats to the already huge clog from where someone wronged us.  We try to start out new and get rejected even more by people we don't even know.  Unfortunately the original person who rejected us told all their friends and now we can't win for losing.  How do we clear such a clogged mind of horrible disappointments?
The answer is Christ.  We spend time in prayer and in the Bible which is where we learn just how much we are loved.  We are children of the King and He sees us as masterpieces.  Once we accept Christ and who we are in Him we find peace.
It was not right for people to do us wrong but it is also not right for us to prevent His love from flowing through us because revenge is a greater desire than God's love.  There becomes a time when we must realize that some things aren't meant for us to handle.  If that were so, things would have already been resolved.  It's time to present these hurts and disappointments to God and allow Him to do His work in us.  Each time we find ourselves focused on the clogs in life we turn it over once again to the capable hands of our Father.  He walks us through.  He gives us new direction.  He removes obstacles or makes a path through them.  As we trust Him with these things, He can use us more to channel His love through us.
Proverbs 17:9  New Living Translation
Love prospers when a fault is forgiven, but dwelling on it separates close friends.