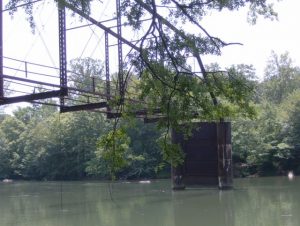 A trapeze artist is famous for his ability to let go.  He sees the next bar swinging toward him and when the timing is right he lunges to let go of his current bar.  He watches the swing of the bar coming toward him and he manipulates things where he swings toward it.  When the next bar gets as close as possible he lunges.  He has all his moves planned.  Even then he encounters the brief moment between the bar he let go and the one to come.
Life is full of moments like these where we must move on.  Graduations, marriages and job promotions push us ahead to the next phase in life.  The brief moments of uncertainties between old and new are very real.  However we see the next phase and have some idea of what to expect.
There are other moments in life that are unexpected and the future is unknown.  A parent passes away or a boss suddenly fires us.  It leaves us with nothing to see except a free fall into a way of life we know nothing about.  It's almost like crossing a bridge and the road beneath our feet gives way and the bridge itself does not reach the other side.  There is no way of knowing how deep the water under the bridge and the land ahead of the bridge offers nothing but trees to see.
It's during these times God is offering us His perfect gift of peace.  Without these unknowns in life there would be no opportunities to trust.  While it's easy to trust when we see what's up the road it is very difficult to trust when we do not see.  When we see nothing to trust, it's time to trust the peace God gives.  God, Who created all things, can deliver from unknowns.  He is our safety net and our deliverer.  He is in control.
John 14:27  New International Version
Peace I leave with you; My peace I give you. I do not give to you as the world gives. Do not let your hearts be troubled and do not be afraid.