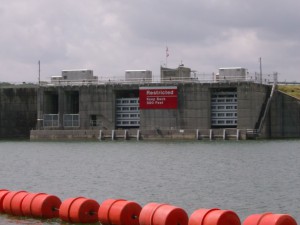 The love of Jesus overflows and nothing can stop it.  His floodgates of love are opened up each time we turn to Him.  Even though we feel His mighty peace, calmness and security in the most intense battles of life, it's only the tip of the iceberg of understanding. 
At times we see prayer answered beautifully and all things fall into place.  Other times the answers are too powerful and great to see with the human eye.  During these times when it seems things have been forgotten, God is grooming us to receive His Holy and perfect answer that our minds can't comprehend yet. 
A river dam is so powerful people are warned to get out of the way.  The floodgates of love that come from the throne room of God are all powerful and cannot compare to even the most powerful floodgate we create here.  When we trust God, we trust the Almighty. 
Ephesians 3:18-20
 And may you have the power to understand, as all God's people should, how wide, how long, how high, and how deep His love is.  May you experience the love of Christ, though it is too great to understand fully. Then you will be made complete with all the fullness of life and power that comes from God. Now all glory to God, who is able, through His mighty power at work within us, to accomplish infinitely more than we might ask or think.