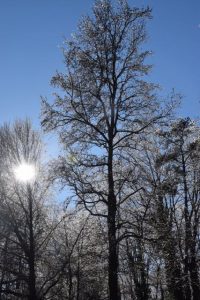 Get ready, get set, wait.  Anyone in the armed forces can tell us that doing nothing is difficult.  They are trained to take action at a moment's notice.  Reacting to actions is a normal thing to do. 
When someone cuts us off in traffic it's a normal thing to blow our horns or make an ugly face or even more.  When someone quits speaking for no reason it's a normal thing to do to find out why.  When someone opposes our viewpoint hostilely it's normal to retaliate.
Mama always said that two wrongs do not make a right.  This is true in every day life.  The one cutting us off in traffic should result in a quick prayer that God will place a hedge of protection around them. 
The one not speaking to us is an opportunity to trust God as He is dealing with them.  Usually a sudden disinterest in us means God has convicted them and they do not like it so we get the wrath.  Our smiles toward them should not stop. 
The one loudly protesting our viewpoint is another sign that God is dealing with the heart of that person with a conviction.  The guilty protest a lot and it's God's way of revealing to us He is already dealing with that person or people.  Our response should be one of gratitude toward God that He loves them enough to bring them to our attention for prayer.
Their actions are their own.  Our reactions are between God and us in a loving way.  Sometimes the most difficult thing to do is nothing at all, including not changing our attitudes toward people who wrong us.  When we grant God the opportunity to take the situation while we back off the results will be overwhelmingly rewarding.  God will let us know in our hearts if there is a time to speak on His behalf of do certain actions but God gives the orders.  Until then we stand in full attention to His instructions. 
Matthew 5:43-45  New Living Translation
You have heard the law that says, 'Love your neighbor' and hate your enemy.  But I say, love your enemies.  Pray for those who persecute you!  In that way, you will be acting as true children of your Father in heaven. For He gives His sunlight to both the evil and the good, and He sends rain on the just and the unjust alike.