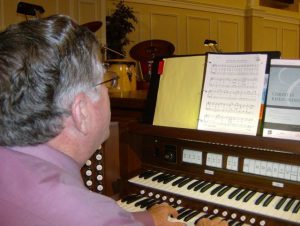 Music is a gift of love God sends us to send back to Him in praise.  When a teacher takes time to teach us musical notes or how to sing in tune it enhances what God already enjoys hearing from us.  Other people teach us how to express love in song and how to write lyrics or printed notes on paper.  Musical instruments are a great way to enhance words of praise that glorify God and bring others together to praise along with us.
While it is true that many standard education systems want to remove music classes, churches long to grow their choir and orchestra and include as many possible.  God longs to hear from each of us using the gifts He has given us.  Whether our talent is to tap one ring on a triangle or use both hands and both feet to play a brilliant organ He wants to hear from us in order that He can be heard through us.
Psalm 92:1-3 New International Version
It is good to praise the Lord and make music to Your name, O Most High, proclaiming Your love in the morning and Your faithfulness at night, to the music of the ten-stringed lyre and the melody of the harp.