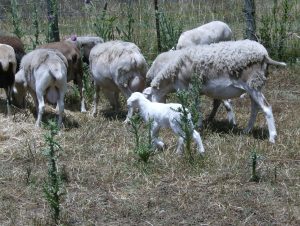 Jesus is referred to as the Good Shepherd and also the Lamb of God.  In many cultures a shepherd is regarded as a low paying occupation and thought of as lowly.  It's amazing how God can take the least of all things and make them the greatest. 
It is at the lowest point in our lives that God reminds us of who we are and Who He Is.  God raises us up in His way and His timing from all circumstances that set us back. 
Pharaoh was a king over all of Egypt.  There was none greater than him except one, a shepherd.  When Jacob was introduced to Pharaoh it was Jacob who prayed a prayer of blessing on Pharaoh.  A shepherd blessed a king.
This is one of the first examples of how we are to present the love of Jesus Christ to others.  No matter who we encounter during a day our actions should cause people to notice Christ.  It does not matter our occupation, position or status.  Any who have the love of Jesus Christ are the turning point for others to notice Christ. 
Genesis 47:7  New Living Translation
Then Joseph brought in his father, Jacob, and presented him to Pharaoh.  And Jacob blessed Pharaoh.