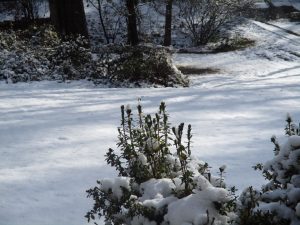 Act One is finished.  The applause roars then quickly tapers off.  The curtain is closed and the lights in the audience fade in.  There is a soft hum of the hundreds of voices as they speak to the people around them  Most are discussing the first act and the brilliance of the play.  The scenery and display of the props are magnificent as well as the special effects.  There is a great anticipation to see the last act and how the actors bring to a close the plot that developed in act one.
The intermission slowly becomes longer than expected.  The audience becomes more disgruntled and some even leave.  However the final act is performed much later and the story told on stage is far greater than anyone can imagine.
What happened to cause the delay?  Why such a long intermission?  Did the producers forget the audience?
Many times an important prop becomes broken and it is necessary to make a repair.  It happens sometimes that a mechanical failure occurs that must be corrected.  Unfortunately at times an actor has an attitude and will not perform meaning an understudy must be briefed and placed in costume.
These things happen in our prayer life.  Things get delayed.  The curtain is closed and we see no activity toward our prayers.  The delay many times is so long that it's easy to feel that God has forgotten us but He has not.
A closed curtain has more activity going on than the visual effect of the answer itself.  Behind that curtain all heaven is at work preparing to show us the finished result.  Situations are being monitored for just the right time, place and people to make things come together perfectly.  When praying for people the delay can be ongoing because God is dealing with stubbornness and attitudes.  He has to allow them time and situations in order to reveal His will to them.
There is reason to rejoice in these long intermissions because there is far more that goes on behind the scenes than what we realize.  In God's timing and His way He will present to us the finished result which is greater than anything we can imagine.  Until that time all praise to God and to our Savior Jesus Christ Who makes all things possible.
Lamentations 3:25-26  New Living Translation
The Lord is good to those who depend on Him, to those who search for Him. So it is good to wait quietly for salvation from the Lord.