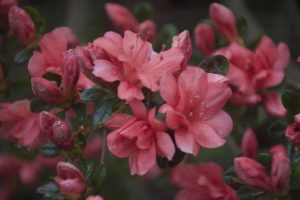 Joseph became second only to Pharaoh because he trusted God.  Earlier his older brothers were jealous over a dream he explained and had him sold as a slave.  After that Potiphar's wife framed him for something he did not do and he was jailed.  Growing up he had the habit of bring boastful and proud.  Even with all of these things working against him he found favor with God by humbling himself.
Another example is King David.  He was considered the outcast by the rest of his family but he continued serving as a shepherd.  He was totally overlooked when his brothers were introduced to the messenger who was to anoint the next king.  After the messenger insisted that none of the brothers were the one to be anointed they sent for David who was in the field and to their amazement, he was the one.  David also had his share of issues, mainly lust.  His life was continually being challenged by Saul yet God gifted him as a musician and used him to help keep Saul calm.
We sometimes walk through difficulties.  At times we don't feel accepted or noticed for our values.  We all fall short of God's glory with things like pride, anger, jealousy and other sins yet God shows His favor toward us just for asking Him.  The Bible refers to humility and faith as being key to knowing God and having Him reveal Himself to us.  As we continue to strive to attain the most for each moment with an attitude of service to our Lord He will see to it blessings unfold.  It's not what people think of us but what God knows about us.
Proverbs 22:4  New Living Translation
True humility and fear of the Lord lead to riches, honor, and long life.