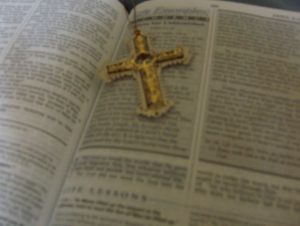 God, Who is the same today as yesterday and forever, reminds us that the conversation He had with Cain is the same for us.  As we are bombarded daily with temptations it is up to us to seek God's face to see us through them.  These temptations desire us and pursue us all day long but through Jesus Christ we are conquerers.
After Cain was unable to contain his temptation and killed Abel, God had a conversation with him.  He reminded Cain that if he does what is right in the eyes of God he will be accepted but if not sin will overtake him.  Even as far back as Cain and Abel temptation lurked.
Today we continually face issues that will quickly overtake our emotions if we are not careful.  Evil is all around and people wrong us in many ways.  While we are not required to make everybody our best friend, it is our duty to do what is necessary to keep a pleasing attitude toward God.  Our purpose is to represent Him and in doing so we are to keep our garments clean.  It is safe to say that most people do not know Christ as their Savior and many will not listen as His Name is spoken.  Therefore our greatest witness to an unhappy and angry people is the countenance on our faces.  Our actions will be the only Bible some people will ever know.
Genesis 4:7 New International Version (NIV)
If you do what is right, will you not be accepted? But if you do not do what is right, sin is crouching at your door; it desires to have you, but you must rule over it."