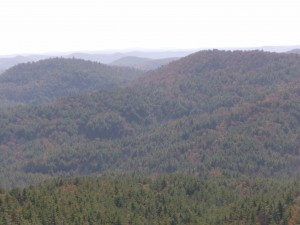 In the world today there are trials that are getting more intense.  Floods, earthquakes and wind storms are more frequent and more violent.  Governments are taking control many times going against the very word of God with no second thought.  People rise up in violence and others don't care at all.  The brotherly love is quickly going away because God has been rejected by so many.
Young people disrespect older people saying things that are almost unspeakable and have no remorse.  Numerous people care only about the thrill of today yet God has not changed.
There is comfort knowing God still has the final say.  His love is constant and He protects us.  His arms continue to be out stretched toward us.  It's not what we see but instead what we know.  It's not the things we do not see but Who we know.  Jesus is Lord in all things.
2 Corinthians 4:17-18
 For our present troubles are small and won't last very long. Yet they produce for us a glory that vastly outweighs them and will last forever!  So we don't look at the troubles we can see now; rather, we fix our gaze on things that cannot be seen. For the things we see now will soon be gone, but the things we cannot see will last forever.