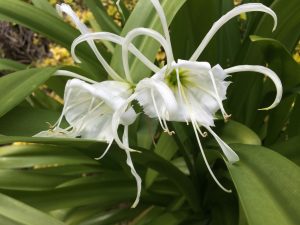 God's grace enables us hear and understand His leading and the steps we need to take in order to carry out His commission.  God never requires anything of us that He doesn't equip us to do. 
Some people are called into the mission field in other lands and God strengthens them with courage and a desire to discover that distant land.  Others are called to be a listening ear and God equips them with a desire to understand and patience while they speak.  Still others are called to preach to many and God gives them utterance.
It is not a matter of having the courage to follow through.  Instead it is a matter of hearing, obeying and looking beyond our fears.  God can do great things with a willing heart.  Most important, He is with us every step of the way and He guarantees all promises will be fulfilled.
2 Corinthians 1:21-22  New Living Translation
It is God Who enables us, along with you, to stand firm for Christ. He has commissioned us, and He has identified us as His own by placing the Holy Spirit in our hearts as the first installment that guarantees everything He has promised us.